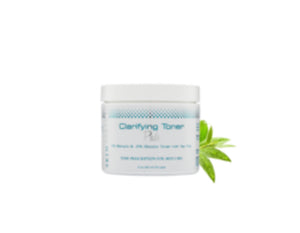 This clarifying toner helps in cellular turnover bringing oil and debris to the surface of the skin; salicylic acid dries the oil.  Tea tree clams and soothes the skin. 
Benefits
Reduces congestion.
Lessens oil production.
Soothes cystic breakouts.
Enhances cellular turnover.
Tips for Use
For acneic skin, Use 2-3 times a week, and adjust the time up or down based on the number of breakouts.
For Oily skin, use daily to dissolve excess oil, if skin becomes dry and flaky reduce usage to 2-3 times per week.
Do not remove the product, allow it to remain on the skin.  Use after cleansing and apply a moisturizer/sunscreen after.